A Hatter and Her Hat Shop
Les Chapeaux d'Angèle - Bayeux, Normandy - Designer Hats
Founded in 2014 by the French designer Angélique Latscha, the Chapeaux d'Angèle hat shop is located in Normandy, in the historic centre of Bayeux, home to the Bayeux Tapestry and gorgeous architecture miraculously spared from the ravages of war, even though so close to the beaches where Allied Forces landed to free Europe on June 6th, 1944: D-Day!
In addition to selling her own line of hand-made rain hats under the brand 'Lilik et Framboise', Angélique offers a selection of men's and women's hats from the finest French and international millners: Céline Robert, Ariane Lespire, Crambes, Grevi, Göttmann, City Sport, Stetson, Maison Brokante, Bedacht, Bailey of Hollywood, Il Cappellaio Matto, Marone...
And what would France be without berets? We offer a wide selection of traditional berets and more fanciful models of the highest quality and finest materials from the premier beret brand, Laulhère.
Our selection of accessories including scarves, shalls and gloves will give your look just the right finishing touch.
We also carry a line of women's wear from the Italian brand 8PM, soon to be available online.
Angélique Latscha: Designer, Seamstress, Hatter from Normandy!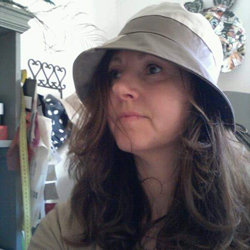 After many years as a seamstress and wedding dress designer, Angélique Latscha turned her creative energy towards making the perfect rain hat, an indispensable accessory the world around (and not just in Normandy, where it actually rains less than people think!)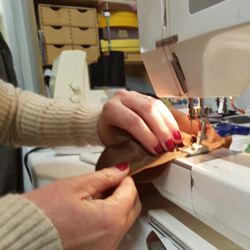 In addition to selling her own brand, in 2014 Angélique opened a hat shop 'Les Chapeaux d'Angèle' in her native town of Bayeux, famous for its Bayeux Tapestry, an 11th century embroidered masterpiece that tells the story of William the Conqueror and the Battle of Hastings in 1066 (every seamstress has her source of inspiration) and for its proximity to the D-Day landing beaches of June 6th, 1944.
The hat shop is located in a quaint street in the heart of the historic town centre, steps from the vast cathedral and from our oldest standing private building, a stone and half-timbered house from the Middle Ages.
Lilik et Framboise - Rain Hats made in Normandy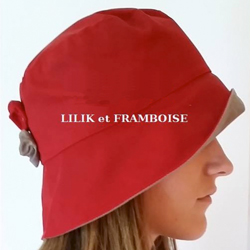 Angélqiue Latscha started the brand 'Lilik et Framboise - made in Normandie' in 2010 after more and more friends and friends-of-friends started asking her to make them the perfect rain hat. Word spread, and before long her rain hats were being sold in hat shops across Western France. Since 2014, Angélique has sold them in her own store, 'Les Chapeaux d'Angélique'.
'Lilik et Framboise' rain hats are made primarily of wax cotton with a soft cotton liner and can be made to size upon demand.